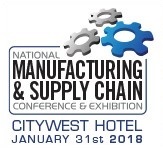 PolyPico Technologies will exhibit their PicoSpotter, an acoustic non contact drop-on-demand pico litre (pl) dispensing technology at the Manufacturing and Supply Chain Conference & Exhibition in the Citywest Convention Centre, Dublin on Wednesday the 31st January 2018. Drop by stand T4 to say hello and enter our draw to win a FitBit*!
Forgot your ticket? We got you sorted. Simply go the website www.manufacturingevent.com and register with the code Client VIP 2018 to attend the event as our guest!
Look forward to seeing you there!
*T&Cs apply

Terms and Conditions of the Fitbit Draw
The prize draw is promoted by PolyPico Technologies Ltd, Innovation House, Ballybrit Business Park, Ballybrit, Galway, Ireland and is subject to the following terms and conditions.
 1. The offer is open to all.
 2. Entrants must be over 18.
 3. The winners will be drawn at random within 14 days of the Manufacturing and Supply Chain Conference & Exhibition 2018.
 4. Entry into this prize draw is validated by completing instructions on the Business cards and posters at the Manufacturing and Supply Chain Conference & Exhibition 2018.
 5. The prize is a Fitbit
 6. The prize is non-negotiable and cannot be substituted for any other prize or cash value
 7. By entering the prize draw, participants agree to: i. the terms and conditions of the prize draw
 8. The prize winner will be notified by Email from PolyPico Technologies Ltd
 9. Winner must respond, accepting the prize within seven days of receiving notification of having won. In the event of non-acceptance or failure to accept within the specified period, PolyPico Technologies Ltd reserves the right to reallocate the prize awarded to the next randomly drawn valid entry (and the same acceptance period, as provided under this condition, will apply).
 10. PolyPico Technologies Ltd reserves the right to cancel or modify this prize draw at any time at its sole discretion.
 11. The prize will be dispatched as soon as available after the draw dates, PolyPico Technologies Ltd cannot be held liable for manufacturer supply delays
 12. In all cases the promoter's decision is final and no correspondence will be entered into.
 13. PolyPico Technologies Ltd accepts no liability or responsibility for entries lost, delayed or undelivered, nor any liability for technical errors or communication failures in networks and/or internet access
 14. This promotion and these terms and conditions of entry are governed by European Law and the courts shall have exclusive jurisdiction over any dispute arising out of or in connection with this promotion
 15. Losing entries will not receive any notification
 16. No purchase necessary