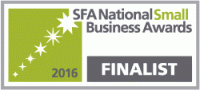 The Small Firms Association (SFA) announced this week that PolyPico Technologies has been selected as finalist in the SFA National Small Business Awards 2016.  From over 430 applicants, 5 finalists across 7 categories have been selected. PolyPico features in the AIB sponsored Outstanding Business Category for small business. The other category finalists include Dúnmasc Genetics – Laois, EireChrom – Cork, Sweet Spot Sourcing – Kidare, Woodrow Sustainable Solutions – Sligo and italian Tile & Stone – Dublin.
PolyPico Technologies established in 2012, is based in Galway, a major centre of technology development and a global leader in medical device manufacturing and bio-engineering research. PolyPico Technologies develop and sell ultra low volume dispensing systems to Life Science, commercial and research laboratories seeking ultra-high accuracy, without the complications and risks associated with cross contamination. The technology enables new applications and possibilities as well as providing a new set of solutions for ultra low volume (picoliter to nanoliter) fluid dispensing applications in the area of cell printing, drug discovery, clinical diagnostics and micro arraying.
The aim of the awards is to celebrate the achievements of Small Business in Ireland and to recognise the vital contribution of the small business sector to Irish Industry. Awards prize package for all finalists includes an exhibition stand at that SFA National Small Business Showcase in February 2016, a strategic management masterclass weekend, a voucher for a Skillnets Management Works management team/CEO course, as well as broad-ranging national and local media coverage, valued at €50,000.
The Gala prize giving ceremony will take place in March 2016 when the category winners and overall winner will be announced.