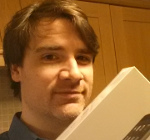 PolyPico Technologies are delighted to announce that James Lipscombe of The Genome Analysis Centre, in Norwich, United Kingdom, has been selected as the winning entry for our competition on our Linked in page. Congratulations to Mr. Lipscombe on winning his brand new iPad Mini!
We'd also like to thank everyone who took the time to enter the competition.
If you'd like to learn more about our affordable, ultra-low volume dispensing technology, with no cross-contamination risks or dead volume, just drop us an email to info@polypico.com
Key Features of PolyPico Technologies
·         Affordable ultra-low volume dispensing technology (ULVD) with ultra-high precision.
·         Eliminates risk of cross contamination through the use of a disposable cartridge
·         This unique cartridge can also be used for frozen storage of fluids
·         No wash cycle required
·         No dead volume
·         Compact footprint for laboratory based R&D