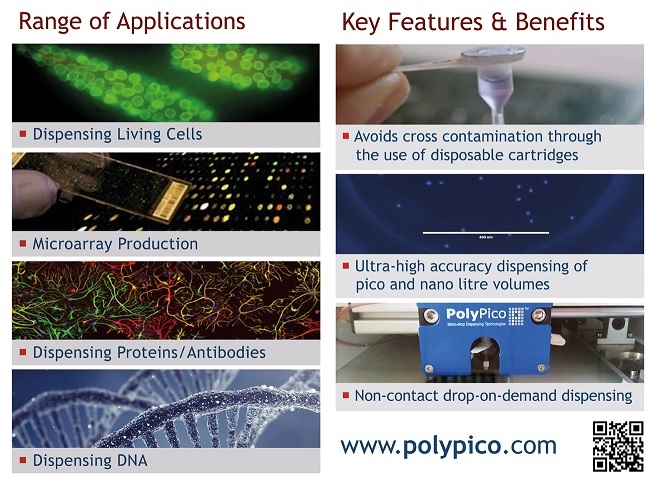 PolyPico Technologies Ltd has just returned from the Third Annual Conference and Exhibition of the Society for Laboratory Automation and Screening (SLAS) in San Diego, California where they launched their new product the 'PolyPico Desktop Spotter', a core platform technology and an innovation in non-contact ultra-low volume acoustic dispensing. This innovative fluid handling drop-on-demand technology operates in the pico and nano litre range and produces no heat or thermal transfer.
At SLAS2014 which is a five day annual event; scientists, academicians, business leaders, and students from around the globe convened to gain new information, ideas and insight about laboratory science and technology. It welcomed 5,802 participants from 46 countries and throughout the conference it was evident that scientists, researchers, engineers and technology developers and users look to the Society as a means of staying informed and connected.  PolyPico Micro-drop Dispensing Technologies were one of eight start-up companies worldwide that were awarded a coveted position on SLAS2014 Innovation AveNEW Programme together with successful applicants from the Netherlands, Italy, Canada, and the US.
At Innovation AveNEW, PolyPico demonstrated their platform technology which brings new features, benefits and capabilities to applications where high precision ultra-low volume fluid dispensing is required for Life Sciences or Industrial applications. Areas of application include printing of high density protein/antibody/DNA microarrays, high throughput screening/drug discovery and the dispensing of living cells. This user-friendly innovative system has many benefits derived from the use of disposable cartridge technology. PolyPico technology is designed to reduce costs and increase yields in applications for both Life Sciences and industry.
 PolyPico provides customised solution and services in the area of microfluidics handling and can be contacted via their website www.polypico.com or by email to info@polypico.com