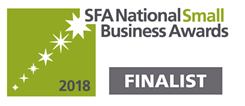 The Small Firms Association (SFA) announced that PolyPico Technologies has been selected as finalist in the SFA National Small Business Awards 2018.  
Since opening it's doors in 2013, PolyPico has produced two generations of dispensing systems – PicoSpotter and the brand new – PicoPRECISE that was officially launched in May 2017. These systems are capable of dispensing materials in ultra-low volumes, and can be used for a number of applications including, drug discovery, cell dispensing, tissue engineering, clinical diagnostics, micro-array production,  DNA applications, and many more.
PolyPico Technologies are delighted to be shortlisted for the Exporter of the Year Award sponsored by DHL Express at the Small Firms Association Awards.
The aim of the awards is to celebrate the achievements of Small Business in Ireland and to recognise the vital contribution of the small business sector to Irish Industry.
The Gala prize giving ceremony will take place in February 2018 when the category winners and overall winner will be announced.