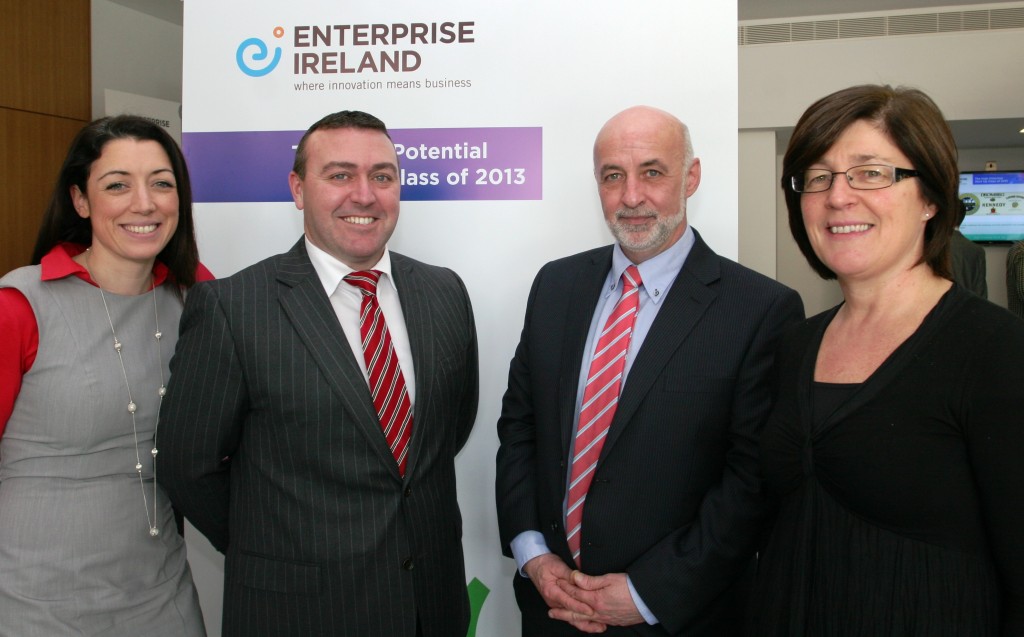 Recently at Dublin Castle, the Minister for Jobs, Enterprise and Innovation, Mr. Richard Bruton TD together with Enterprise Ireland launched the results of their 2013 High Potential Start Ups programme.
The programme is one of a number of new initiatives to deliver on supporting Irish enterprise in domestic and overseas markets and identifies the companies that could be the world-class Irish businesses of the future.
PolyPico Technologies is one of  122 High Potential Start Up (HPSU) companies which was included in the results that showed 1850 new jobs will be created over the next three years from these HPSUs.
Lisa Vaughan, Enterprise Ireland Head of High Potential Start Ups and Scaling added "All the companies here  have the potential to grow rapidly and become significant exporters. These companies play a really significant part in stimulating local economies and employment. The push now must be to help these young companies to realise their full potential to achieve significant scale and become major international businesses in markets across the globe".
Starting out as spin out company from five years of research at University of Limerick, PolyPico's platform technology represents a significant advance in the manipulation of minute quantities of fluids. This new technology facilitates the effective and efficient handling of bio-materials, and non-bio-materials, reducing the volumes of material required and empowering researchers, and industry, to develop more cost effective methods and devices. PolyPico Technologies uses inexpensive disposable fluid cartridges and completely avoids the risks associated with the potential cross-contamination of materials.
Speaking at the Enterprise Ireland launch, Alan Crean CEO of PolyPico Technologies commented that "The technology developed has amazing capability and a sizable export market potential. It is yet another example of successful translational research where research outcomes are creating a tangible benefit for the Irish economy through creating jobs, R&D expertise and export opportunities. "
Paul Dillon, Director of Technology Transfer at the University of Limerick, said; "it is great to see another Spin-Out company from the University of Limerick prospering. PolyPico is an example of what is possible when a group of committed researchers commercialise their research. It is great to see the transition from the research lab to the marketplace".
The patent pending technology has already undergone significant evaluation testing at laboratories both in Ireland and in other European locations. The potential market for this technology is significant and the applications for which this technology is suitable are continually expanding.
PolyPico will be demonstrating their platform technology at Analytica in Munich in April this year showcasing their new features, benefits and capabilities to applications where high precision ultra-low volume fluid dispensing is required in printing of high density protein/antibody/DNA microarrays, high throughput screening/drug discovery and the dispensing of living cells to name a few.
If you would like to find out more about this technology, visit their website www.polypico.com or connect with them on Linkedin .
Company Profile
PolyPico Technology is an acoustic (non-contact) drop-on-demand dispensing technology, similar in many ways to glass based piezoelectric dispensing technology. However, it is the first acoustic technology to use disposable plastic fluid cartridges to provide an affordable accurate (+/- 1pl) means of dispensing pico and nano litre volumes of biomaterials.  These disposable cartridges completely avoid the need for washing between dispensing cycles and eliminate the risk of cross contamination. Areas of application include printing of high density protein/antibody/DNA microarrays, high throughput screening/drug discovery and the dispensing of living cells.