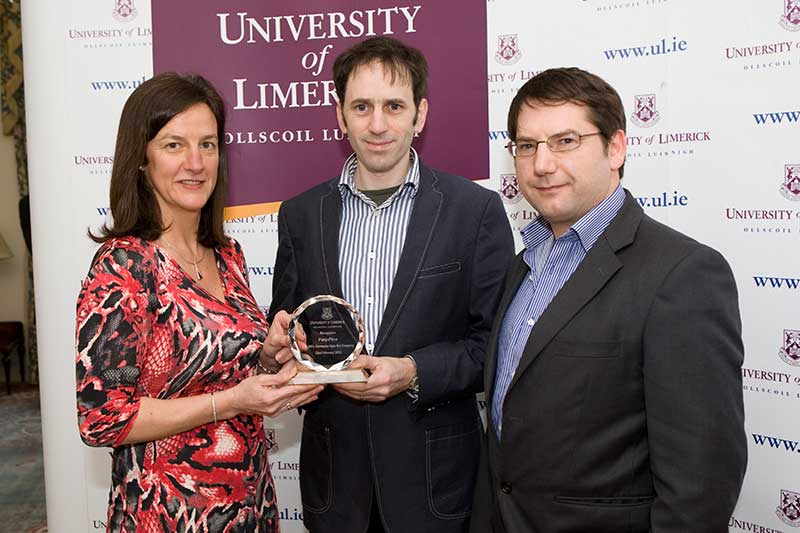 The achievements of leading spin-out companies; ALR Innovations and PolyPico Technologies Ltd together with UL's partnership with medical devices company, Aerogen were recently recognised at the UL Innovation Awards. The event was attended by researchers, entrepreneurs, industry representatives and innovators in the region.
UL's Vice President Research, Dr Mary Shire said; "These awards highlight the impact UL research can, and is making on economic growth. The partnership between UL and Aerogen is a perfect example of academic expertise and industrial skill combining to make significant step-changes for the medical devices industry. The success stories of spin-out companies like ALR Innovations and PolyPico are testament to the real impact translational research has for the Irish economy."
PolyPico were formally recognised as one of 2011 UL Spin-Out companies. PolyPico is commercialising technology that generates micro, nano and pico litre volumes of biomaterial. It allows users to reliably dispense fluids down to 100 pico litre resolution (10 -12). To put this into context, it would allow a standard pint of fluid to be dispensed in nearly 500 billion individual equal sized amounts. Polypico Technologies Ltd received support from Enterprise Ireland.
Speaking at the awards ceremony, Paul Dillon, Director, Technology Transfer Officer, UL said; "UL has continued to out-perform international benchmarks for delivery of inventions per euro investment. Our focus on commercialisation has yielded 6 promising spin-off companies in recent years involving a combined investment in excess of €60m and providing high-value jobs. It is vital that we generate and protect invention and industrially relevant research findings which will drive future growth."